Yes! I took almost a week off this week (all but Monday) for my "annual personal spiritual retreat" (Hey, I made it up, but I love it – I began last year.) – which this year is including a 48-Hour Book Challenge.
I can't imagine a better beginning than I had yesterday. The weather has turned lovely – highs in the 70s, with gentle breezes and sunny skies. In the morning, I spent some extra time praying and thinking about goals. (Right now my goals are pretty simple: Read! A lot!) I began a walking program that I've done in previous years but usually give up on when the sun stops getting up early. After lunch, I visited Burnside Farms and took pictures of tulips.
I even brought some home.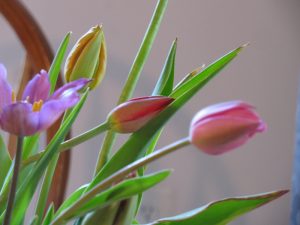 After that, my plan was to get my house clean (vacuuming, cleaning the bathroom and kitchen, dusting… that sort of thing) before I began the serious work of reading. But it's hard to face housework – so during the rest of the afternoon, I alternated spending a half-hour on my balcony reading and then spending fifteen minutes cleaning my house. And I had such a lovely time on the balcony, with the breezes practically caressing me they were so gentle, and the sun shining brightly and the birds singing… it spilled over into enjoying doing the housework.
By the time it got dark, I could envision finishing – and then being able to read the rest of the week and not having to do any housework! And I did it!
What does all that have to do with reading for the Newbery? Well, see how you have to arrange your life to find more time to read? I'm trying to do a 48-Hour Book Challenge once per quarter and a 24-Hour Book Challenge once a month. (I didn't bother to blog about last month's.) But I'm excited to have this time smack in the middle of the year. Because, yes, I'm feeling behind.
Here are my current stats, before I started the 48-Hour Book Challenge at 1:30 pm today. Yes! I've made progress since I last posted on April 17. Of course, I am fated to always fall further behind. No matter how many books I get read, it will not be as many as I'd like to get read.
But so far, this is how many Newbery-eligible books I've read:
Middle grade books: 99 books (11 not finished) and 21,197 pages.
Young adult books: 31 books (2 not finished) and 9,864 pages.
Picture books: 180 books and 6,802 pages.
This comes to a grand total of 310 books (more than half picture books) and 37,863 pages.
It sounds like a lot – but I don't think I've even read half of the eligible books published so far.
And I have received 225 books from publishers so far. I haven't read half of those.
However, I've got fourteen other committee members out there looking for good books. Also, I've asked the kids in the Newbery Book Club to alert me when they read a good book.
And that reminds me of one of the highlights of the time since I blogged about Newbery reading – I got to talk to a middle school group and an entire fifth grade at a local elementary school. The day after my talk to the fifth grade, two of the kids sent suggestions, via their school librarian, of titles I should be sure to read. This makes me happy that they were so engaged.
The day after that, I had a meeting of the Newbery Book Club at the library. I had some regulars return, and I had a new boy come. He brought in a copy of a book that had just been published the day before – was a little bothered that I had it in an advance reader copy when he'd just bought it. But then he got excited about the advance reader copies I was offering to the kids and asked if he could bring some extra for his friends. I said sure as long as he gets them to give me their opinions. (I'm asking the kids to rate the books with one to five stars and put their opinion on an index card. I'm collecting these during the year. We'll have a vote among the kids at the end of the year among books they rated with 5 stars.)
It makes me happy that I do have quite a few kids now who are interested in letting me know which of the new books being published are the really good ones that I shouldn't miss. Hooray for getting kids excited about reading!
Of course, I'm hoping to have higher totals at the end of 48 hours. The one catch is that, besides needing to get more books read, before I even started the challenge, I've got a stack of 7 books that I've read already and need to write reviews for. That's not counting new books I get read during the Challenge. (I'm writing reviews to post after we select our winner. That's the only way I can remember what the different books were about.)
So – a lot of the 48 hours will be spent writing reviews and not just reading. And I'm also allowing blogging time (like this) and posting old reviews. I still have a backlog of 164 reviews I wrote before 2018 began. I'd like to get all those posted before we announce our winner and I can do 2018 reviews – but I need to try to post a review every day. (Of course, then I'll have a new backlog of 2018 books. At some point, I'll probably give up and decide I don't have to post all the reviews. We'll see.)
And now I've had enough of a break – I'm going back out on my balcony to do some more reading!