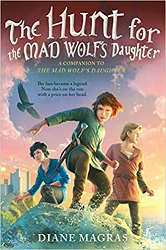 The Hunt for the Mad Wolf's Daughter
by Diane Magras
Kathy Dawson Books (Penguin Young Readers Group), March 2019. 271 pages.
Review written February 25, 2019, from an Advance Reader Copy I got at ALA Midwinter Meeting.
Starred Review
This book bills itself as a "Companion" to The Mad Wolf's Daughter, suggesting you can read them in any order, but I think you'll be better off reading the first book first – to find out how the young daughter of the war lord known as the Mad Wolf became the best friend of the lord of a castle who's on the run and wounded.
The book is set in medieval Scotland. Drest rescued her father and brothers from the castle dungeon in the last book, but it turned out that Emerick's uncle wants him dead, so he escaped the castle with them, still without having his wounds tended.
Drest's father thinks it's time for them to take care of Drest, but she learned in the last book that she can take care of herself. And Emerick doesn't trust anyone to guard him as he trusts Drest.
But Emerick's uncle has put a price on Drest's head, so anyone who finds her will kill her. On top of that, he's coming to look for her, as well as Emerick. If Emerick dies, he will be lord of the castle. Can Drest protect Emerick and help him find healing while staying alive herself?
This is another rollicking adventure with a girl who is deservedly a legend.
Find this review on Sonderbooks at: www.sonderbooks.com/Childrens_Fiction/hunt_for_the_mad_wolfs_daughter.html
Disclosure: I am an Amazon Affiliate, and will earn a small percentage if you order a book on Amazon after clicking through from my site.
Disclaimer: I am a professional librarian, but I maintain my website and blogs on my own time. The views expressed are solely my own, and in no way represent the official views of my employer or of any committee or group of which I am part.
What did you think of this book?