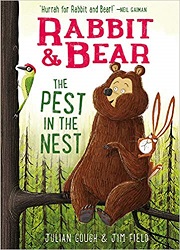 Rabbit & Bear
The Pest in the Nest
story by Julian Gough
illustrations by Jim Field
Silver Dolphin Press, 2018. First published in Great Britain in 2017. 102 pages.
Starred Review
Review written May 30, 2019, from a library book
This second book about Rabbit and Bear finds continued humor in Rabbit's grumpiness – and even has some practical lessons about finding peace.
The situation Rabbit finds himself in might make anyone grumpy – there's a woodpecker building a nest in a tree nearby, making a huge racket.
After Rabbit tells Bear that Woodpecker is driving him crazy, and then that Tortoise is driving him crazy, too, they have this exchange:
Bear thought about this. "So noisy, happy things drive you crazy?"

"Yes!" replied Rabbit.

"And quiet, sad things drive you crazy?"

"Yes! Yes!" said Rabbit.

"Bear thought about this some more. "But … the only thing those things have in common," she said, scratching her head, "… is you."

Rabbit gave Bear a Look. "So?"

"Well," said Bear, "I think the creature that is driving you crazy isn't Woodpecker. And it isn't Tortoise. It's …"

Hmmm. Bear didn't want to say it. Rabbit had a FIERCE temper.

"It's YOU, isn't it Bear?" said Rabbit, and raised his right foot to kick Bear.

"Er, no," said Bear. "It's you."
But Bear thinks of a way to help Rabbit see the situation differently, and they end up making a new friend while they're at it.
This book is the length of a beginning chapter book without actually having chapters. But young readers will enjoy being able to read it themselves, with plenty of pictures and lots of humor to speed them on their way. And they may pick up a little wisdom and ideas of things to do when they're feeling grumpy.
I'm looking forward to more adventures with Rabbit and Bear.
Find this review on Sonderbooks at: www.sonderbooks.com/Childrens_Fiction/pest_in_the_nest.html
Disclosure: I am an Amazon Affiliate, and will earn a small percentage if you order a book on Amazon after clicking through from my site.
Disclaimer: I am a professional librarian, but I maintain my website and blogs on my own time. The views expressed are solely my own, and in no way represent the official views of my employer or of any committee or group of which I am part.
What did you think of this book?