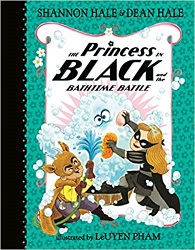 The Princess in Black and the Bathtime Battle
by Shannon Hale & Dean Hale
illustrated by LeUyen Pham
Candlewick Press, 2019. 90 pages.
Starred Review
Review written December 9, 2019, from a library book
I love the Princess in Black! These are simple chapter books with lots of pictures. They include fun stories about princesses who disguise themselves as heroes who fight monsters – and one goat boy who disguises himself as the Goat Avenger. They are rewarding for beginning readers and a whole lot of fun.
In this latest installment, the foe is a horrible stinky smell. How do you fight a smell?
As the Princess in Black and the Goat Avenger manage to blow the stink away, it goes into other kingdoms, so other heroes come and investigate. But that's a good thing. When they discover that the source of all the trouble is a super-stinky monster, the stink is so bad, it takes all the heroes working together to clean up the stink.
I like the way Shannon Hale and Dean Hale use some of the same elements in each book – but add something new every time. In this book, the battle is about bathtime. And I love that all the heroes get to take part.
This book encourages the reader to think what kind of hero they can be.
This review is only on the blog.
Disclosure: I am an Amazon Affiliate, and will earn a small percentage if you order a book on Amazon after clicking through from my site.
Disclaimer: I am a professional librarian, but I maintain my website and blogs on my own time. The views expressed are solely my own, and in no way represent the official views of my employer or of any committee or group of which I am part.
What did you think of this book?