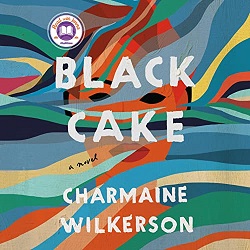 Black Cake
by Charmaine Wilkerson
read by Lynnette R. Freeman and Simone McIntyre
Random House Audio, 2022. 12 hours, 2 minutes.
Review written August 2, 2022, from a library eaudiobook.
Starred Review
This audiobook had me fully drawn in right from the start. It's a richly textured story, rooted in the present with a brother and his estranged sister shortly after their mother's death. Byron and Benny think they knew their parents. They think they lived boring lives, both of them orphans from a Caribbean island who met in London and then built a family in California, where they prospered.
But their mother's lawyer has a recording for them. And a Black Cake sitting in the freezer which they are to eat when the time is right. In the recording, their mother tells her actual story – how she changed identities three times in her decidedly not boring youth. And they have a sister they knew nothing about.
They also learn where their mother learned to make Black Cake — a traditional cake from the island using dried fruit soaked in rum and port and served at weddings and special events. Black Cake has long been an important part of their lives, and now they learn there was Black Cake at a huge turning point in their mother's life.
The stories of the past and the present are layered together beautifully. When Byron and Benny need a break from the revelations, the reader gets a break, too. The story is dramatic and heart-wrenching and had me transfixed. The narrators use beautiful accents for characters from the many different parts of the world represented.
This book appeared on Barack Obama's summer reading list. I felt like a winner because my hold on the eaudiobook had just come in — I'm sure then the list got longer.
As a debut novel, this book is amazingly rich and layered, kind of like cake. I highly recommend it, and especially the audio version enhanced by the beautiful accents.
Find this review on Sonderbooks at: www.sonderbooks.com/Fiction/black_cake.html
Disclosure: I am an Amazon Affiliate, and will earn a small percentage if you order a book on Amazon after clicking through from my site.
Disclaimer: I am a professional librarian, but the views expressed are solely my own, and in no way represent the official views of my employer or of any committee or group of which I am part.
What did you think of this book?