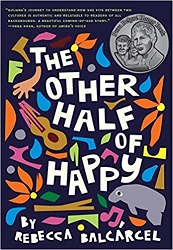 The Other Half of Happy
by Rebecca Balcárcel
Chronicle Books, 2019. 317 pages.
Review written January 9, 2020, from a library book
2020 Pura Belpré Author Honor
Quijana has a Guatemalan father and an American mother. Her parents never taught her Spanish because they said English was more important. But now Quijana is starting seventh grade and going to a new school without her sixth grade best friends. People think because of her name that she should speak Spanish. Then her Guatemalan cousins move to town, and Quijana feels even less like she belongs.
Meanwhile, her little brother isn't talking like other kids his age, and her American grandmother is sick. Her father has started wanting her to embrace her Guatemalan heritage, but she feels like he's taking over. And now the family is planning to take a trip to Guatemala, so Quijana will have to face two weeks where she doesn't understand what anyone's saying.
Meanwhile, at school Quijana does make some new friends, and she hopes one of those friends will end up being something special. Her friends might even help her figure out a way to escape the family trip to Guatemala.
The author navigates all these different issues, carrying us with Quijana as she figures out who she is and where she belongs and how she can make music that is all her own.
I especially like the list of Quijana's grandmother's sayings at the back of the book. Quijana has some good people in her life to help her get through the many confusing aspects of seventh grade.
Find this review on Sonderbooks at: www.sonderbooks.com/Childrens_Fiction/other_half_of_happy.html
Disclosure: I am an Amazon Affiliate, and will earn a small percentage if you order a book on Amazon after clicking through from my site.
Source: This review is based on a library book from Fairfax County Public Library.
Disclaimer: I am a professional librarian, but I maintain my website and blogs on my own time. The views expressed are solely my own, and in no way represent the official views of my employer or of any committee or group of which I am part.
What did you think of this book?