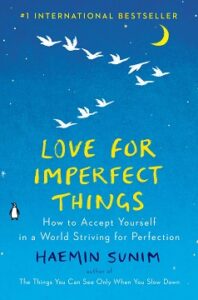 Love for Imperfect Things
How to Accept Yourself in a World Striving for Perfection
by Haemin Sunim
translated by Deborah Smith and Haemin Sunim
Penguin Books, 2018. Originally published in Korean in 2016. 259 pages.
Starred Review
Review written June 27, 2020, from a library book
This is a lovely and peace-inducing book written by a Zen Buddhist teacher. It worked well to read a chapter or half a chapter each day, as I had time, and I was uplifted when I did.
The book is illustrated with peaceful pictures. It's a book about loving yourself and others, and about healing and going through the world with compassion – very general, nice things. The format is each chapter has a section or two of narrative and then several pages of shorter bits of wisdom.
The book didn't give me any new, earth-shaking insights, but reading its wisdom helped me calm my thoughts and meditate on truth.
I'll grab a few examples of the sort of sayings you'll find here:
When someone does something to distress you
for no apparent reason,
or behaves completely unreasonably,
for your own sake, repeat to yourself:
"Big world, some weirdos!"
If you want to kindle firewood,
there needs to be space between the logs.
If you pack the wood too densely,
the fire will not take; the flames need room to breathe.
In the same way, if our lives have no breathing room,
we won't be able to enjoy all the things we have,
no matter how great or precious they are.
If you point out someone's faults,
don't expect their behavior to change.
Often all that happens
is that they get hurt.
Instead, praise their strengths,
which will grow to overshadow their weaknesses.
There are many aspects of life that we cannot control.
When it comes to our children, spouse, relatives, and friends,
we can love them, pray for them, show them interest,
but we cannot control them,
even when we have good intentions,
since their happiness ultimately depends on themselves.
Let them take responsibility for their choices.
When we get through an illness, we develop immunity.
If we protect others from illness,
they may not develop proper immunity against life.
I found those quotations on pages I opened to at random – the quality of the observations is consistently good. You can see that they aren't necessarily things you don't already know – but they are things it's good to be reminded about.
haeminsunim.com
penguinrandomhouse.com
Find this review on Sonderbooks at: www.sonderbooks.com/Nonfiction/love_for_imperfect_things.html
Disclosure: I am an Amazon Affiliate, and will earn a small percentage if you order a book on Amazon after clicking through from my site.
Source: This review is based on a book from Fairfax County Public Library.
Disclaimer: I am a professional librarian, but the views expressed are solely my own, and in no way represent the official views of my employer or of any committee or group of which I am part.
What did you think of this book?