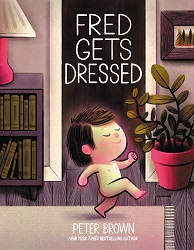 Fred Gets Dressed
by Peter Brown
Little, Brown and Company, 2021. 44 pages.
Review written September 29, 2021, from a library book
Starred Review
Fred Gets Dressed is a book that's playful about an everyday activity: getting dressed.
As the book opens, Fred is running around his house naked while his parents read books and let him romp. We do see his bottom, but he's happily positioned not to reveal anything else. His expression and demeanor are sheer joy as he celebrates being "naked and wild and free."
But then he runs into Mom and Dad's bedroom and looks in the mirror on the inside of their open closet door. We see his big smile. Then he starts looking at the clothes in their closet.
Fred looks at Dad's side of the closet.

He thinks about the way Dad dresses.

It might be fun to dress like Dad.
So Fred carefully picks out a shirt and a tie and a pair of shoes.

But he has trouble putting them on.
Then Fred thinks about the way Mom dresses. He finds an outfit from Mom's side of the closet that he can put on. Then he decides to go to her dresser and try the jewelry and makeup.
Just as he's smeared some lipstick on his face, Mom and Dad walk in. There's a spread where they see him, and then a spread when everyone smiles at each other.
After that, the whole family joins in! Mom shows Fred how to put on some makeup, but Dad and even the dog get involved, too.
I love the way the parents aren't shocked by Fred's play – either when he's romping naked or when he's dressed up like Mom. And better yet, they join the fun.
I'm not going to say this is a book for gender nonconforming kids, though they will enjoy it. Don't all kids love to play dress-up? I love the way this book doesn't teach that this has to be limited by gender, and that even grown-ups can play, too.
And after reading the author's blog post about the book, I like it even better. When he was a child who loved to play with paint, he was interested in what his mother used to paint her face. One day his mother found him with lipstick on his face, and his mother responded as Fred's mom does, teaching him how to put it on. The author says he felt unconditional love when his mother responded by encouraging his curiosity rather than scolding.
Good silly fun with a playful message. And a wonderful example of affirming parenting.
Find this review on Sonderbooks at: www.sonderbooks.com/Picture_Books/fred_gets_dressed.html
Disclosure: I am an Amazon Affiliate, and will earn a small percentage if you order a book on Amazon after clicking through from my site.
Disclaimer: I am a professional librarian, but the views expressed are solely my own, and in no way represent the official views of my employer or of any committee or group of which I am part.
What did you think of this book?