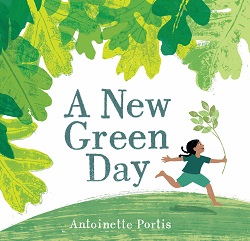 A New Green Day
by Antoinette Portis
Neal Porter Books (Holiday House), 2020. 32 pages.
Review written July 6, 2020, from a library book
Starred Review
This book is a series of poetic riddles about things in nature a girl encounters as she goes through her day. They aren't posed as riddles, but as a description, and then you turn the page to find out what is talking.
Here are a few:
"Morning lays me on your pillow,
an invitation, square and warm.
Come out and play!"

says sunlight.

"I am cool pudding
on a muggy day.
Let your toes
have a taste!"

says mud.

"I race up the hill
while lying at your feet.
Wave at me
and I'll wave at you,"

says shadow.
The pictures that go with the riddles are quiet, joyful, and evocative, with a palette of mainly greens and browns, appropriate for a day mainly spent outdoors in the summertime.
It's a simple book, perfect for celebrating simple pleasures in nature.
antoinetteportis.com
HolidayHouse.com
Find this review on Sonderbooks at: www.sonderbooks.com/Picture_Books/new_green_day.html
Disclosure: I am an Amazon Affiliate, and will earn a small percentage if you order a book on Amazon after clicking through from my site.
Disclaimer: I am a professional librarian, but the views expressed are solely my own, and in no way represent the official views of my employer or of any committee or group of which I am part.
What did you think of this book?