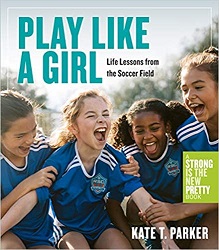 Play Like a Girl
Life Lessons from the Soccer Field
by Kate T. Parker
Workman Publishing, 2020. 204 pages.
Review written October 31, 2020, from a library book
Play Like a Girl is another book packed with wonderful action shots of people from the author of Strong Is the New Pretty and The Heart of a Boy. This book features female soccer players – girls and women from all levels of soccer competition. Every photo includes a quote with the subject's first name and age. Professional soccer players featured are given a short bio at the back.
The book is organized into ten chapters with ten "Rules," things like "Keep Your Head Up" and "The Team Is the Thing." The first page of the chapter has a short inspirational text with lessons from playing soccer. The rest is all quotes and photos.
This is another astonishingly beautiful book to look through. Almost made me wish I played soccer! This book would be a wonderful gift for any girl who plays soccer.
Find this review on Sonderbooks at: www.sonderbooks.com/Childrens_Nonfiction/play_like_a_girl.html
Disclosure: I am an Amazon Affiliate, and will earn a small percentage if you order a book on Amazon after clicking through from my site.
Disclaimer: I am a professional librarian, but the views expressed are solely my own, and in no way represent the official views of my employer or of any committee or group of which I am part.
What did you think of this book?