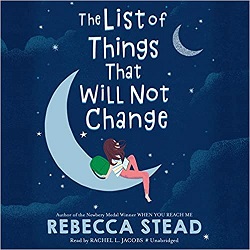 The List of Things That Will Not Change
by Rebecca Stead
read by Rachel L. Jacobs
Listening Library, 2020. 5 hours.
Review written January 26, 2021, from a library eaudiobook
Starred Review
A 2020 Capitol Choices selection
When Bea's parents got divorced, they gave her a green notebook with a list of things that will not change. The first two things on the list are that her parents will love her more than anything, always. Bea goes back and forth between their homes in a regular schedule, knowing she's always got a home with each of them. The list has grown in the years since then.
Now her dad and Jesse are getting married, and Bea gets to help plan the wedding. What's more, Jesse's daughter, who is Bea's age, is coming out from California to visit. The wedding means that Bea will finally get to have a sister! But is her new sister as excited about that as Bea is? And why do some friends and relatives seem so upset about the wedding?
This is a sweet story of a loving family from the eyes of a ten-year-old navigating changes, while still being secure in the knowledge that some things will never change.
Find this review on Sonderbooks at: www.sonderbooks.com/Teens/Childrens_Fiction/list_of_things_that_will_not_change.html
Disclosure: I am an Amazon Affiliate, and will earn a small percentage if you order a book on Amazon after clicking through from my site.
Disclaimer: I am a professional librarian, but the views expressed are solely my own, and in no way represent the official views of my employer or of any committee or group of which I am part.
What did you think of this book?