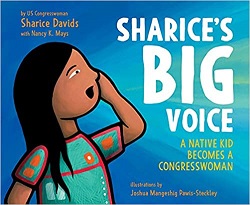 Sharice's Big Voice
A Native Kid Becomes a Congresswoman
by Sharice Davids
with Nancy K. Mays
illustrations by Joshua Mangeshig Pawis-Steckley
Harper (HarperCollins), 2021. 40 pages.
Review written July 10, 2021, from a library book
Sharice's Big Voice is a standard picture book biography, but it did convince me that Sharice Davids is a remarkable woman and that kids will be inspired to hear her story.
Sharice tells her own story and tells us that from the start, she liked to talk. I especially like a small story about how she got an upset classmate to return to the classroom by listening to him, and how she made friends that way.
Then she talks about how she's part of the Ho-Chunk Nation, who call themselves People of the Big Voice. "(Which obviously fits me well!)"
She tells the story of the example of her single mother and her own interest in martial arts. She worked hard and became a lawyer, even though she didn't know any other Native people who were lawyers. Then after working to help people on a reservation, she decided to run for U. S. Congress – and became one of the first Native American women in Congress.
Here are the lessons she pulls from her story:
Be open to challenges.
Work hard and you'll learn a lot.
Listen to people. (But not the doubters!)
Use your big voice to fight for your beliefs.

And always remember:
You deserve to be seen – and heard.
It's exciting that kids can read a picture book of someone alive today who's young and already making a difference, despite odds against her.
joshuamangeshig.com
harpercollinschildrens.com
This review is only on the blog.
Disclosure: I am an Amazon Affiliate, and will earn a small percentage if you order a book on Amazon after clicking through from my site.
Disclaimer: I am a professional librarian, but the views expressed are solely my own, and in no way represent the official views of my employer or of any committee or group of which I am part.
What did you think of this book?