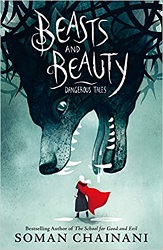 Beasts and Beauty
Dangerous Tales
by Soman Chainani
illustrated by Julia Iredale
Harper, 2021. 320 pages.
Review written January 6, 2022, from a library book
Starred Review
2021 Sonderbooks Stand-out: #7 Teen Fiction
This is a book of fairy tales – delightfully twisted, sinister fairy tales. I had read the first few stories some weeks before, but it ended up being the last book I finished in 2021 – I knew from the beginning that I'd want it to be a Sonderbooks Stand-out.
Here's how the first story, "Red Riding Hood," begins:
On the first day of spring, the wolves eat the prettiest girl.

They warn the town which girl they want, slashing the door to her house and urinating on the step. No one sees the wolves, just as no one sees the dew before it sops the grass. As winter wanes, the town thinks the curse is broken, seduced by the mercy of spring. But then the marking comes. Sometimes a few weeks before she will be eaten, sometimes a few days, for wolves decide on a prey in their own time. But once a girl is chosen, she is theirs. Neither child nor family can appeal. On the eve of spring, the wolves howl for their meal and the town marshals her to the edge of the forest and sends her in. Fail to deliver her and worse things will come than the loss of a pretty girl, though no one knows what these worse things could be. Soon the second howl echoes from the forest's belly: quieter, sated, the wolves' work done. The people disperse. The girl forgotten. A price to pay for time unfettered.
It's unquestionably a sinister beginning. But the weak and apparently powerless have a way of triumphing in these stories.
We've got Snow White with black skin, Rapunzel's witch a man, Jack of the Beanstalk looking for his missing father, living with an abusive mother, Hansel and Gretel's missing mother a baker living in a house of sweets, a new twist on Wendy's adventures with Peter Pan.
"Dangerous" is a good choice for describing these tales. They're not the fairy tales you've heard before. They're subversive and triumphant.
somanchainani.com
evernever.com
harpercollinschildrens.com
Find this review on Sonderbooks at: www.sonderbooks.com/Teens/beasts_and_beauty.html
Disclosure: I am an Amazon Affiliate, and will earn a small percentage if you order a book on Amazon after clicking through from my site.
Disclaimer: I am a professional librarian, but the views expressed are solely my own, and in no way represent the official views of my employer or of any committee or group of which I am part.
What did you think of this book?