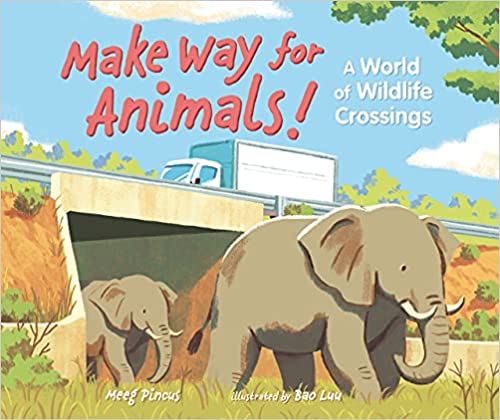 Make Way for Animals!
A World of Wildlife Crossings
by Meeg Pincus
illustrated by Bao Luu
Millbrook Press, 2022. 32 pages.
Review written July 4, 2022, from a library book.
Starred Review
This is a simple nonfiction picture book about many different things people have constructed to help animals get across busy roadways that cut across their habitats.
I have been fascinated by animal crossings ever since seeing wooded bridges above the highways in Europe.
This book shows bridges like that in the Netherlands, but also a pipeline for penguins in New Zealand, a crossing for crabs on Christmas Island, an underpass for elephants in Kenya, a rope bridge for ringtail possums in Australia, and much more.
The book also gives details about the specific animals helped by the crossings. Notes at the back give details about specific places.
The main text is simple but fascinating. I like the variety in the different kinds of crossings featured. All of them save animals lives and help them have a wider habitat.
MeegPincus.com
lernerbooks.com
Find this review on Sonderbooks at www.sonderbooks.com/Childrens_Nonfiction/make_way_for_animals.html
Disclosure: I am an Amazon Affiliate, and will earn a small percentage if you order a book on Amazon after clicking through from my site.
Disclaimer: I am a professional librarian, but the views expressed are solely my own, and in no way represent the official views of my employer or of any committee or group of which I am part.
What did you think of this book?