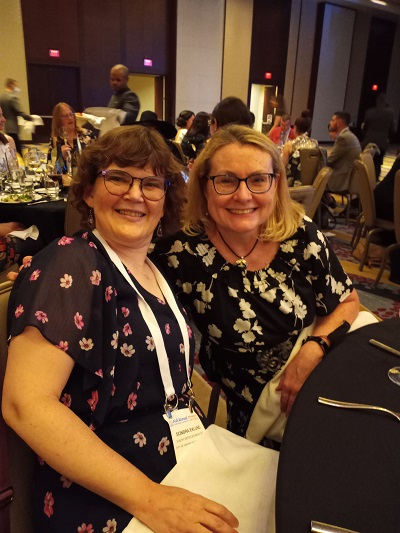 The highlight of ALA Annual Conference is always the banquet where they award the Newbery Medal, the Caldecott Medal, and the Children's Literature Legacy Award. The last time I attended, I was at a publishers' table with other Newbery committee members and winners, so there's just such a warm place in my heart for this event. This time I got to sit with my former boss, Laura — who one week earlier was my current boss!
I put my camera in the wrong pouch of my bag before I changed clothes and thought I'd lost it — so I didn't take as many pictures as usual and only used my phone. But I did take notes on the winners' speeches. And I'll sum them up here.
Jason Chin, winner of the Caldecott Medal for his illustration of Watercress, by Andrea Wang
As a kid, he drew dragons and castles and would leave the real world behind.
In second grade, he moved to a small town in New Hampshire. And at school there, he met Trina Schart Hyman — she'd recently won the Caldecott Medal for St. George and the Dragon. It was an endorsement of the value of art, and drawing dragons.
In high school, he showed his artwork to Trina Schart Hyman, and she invited him to her house. He ended up visiting her many times and was his mentor and role model. She lived in her stories. Her deep empathy gave her art emotional honesty.
To make great art, pour yourself into it.
In making Watercress, meeting Andrea was the first step in the process.
He had to answer questions: What does corn look like? A 1957 Pontiac? He remembered times of being ashamed. He first tried making the illustrations in pastel, but he returned to watercolor, which has echoes of Chinese art. It was a symbolic merging of two cultures.
The words bring the art to life. "Be happy with what you have. Be proud of who you are." It's also a story of a mother dealing with grief. When she shares her story, she begins to heal.
It's an American story.
To believe there's one correct American story is behind book banning.
Book banning says kids should be ashamed of who they are.
Without empathy, resentment grows.
We need books that reflect the whole American story.
Donna Barba Higuera, Newbery Medal Winner for The Last Cuentista
She thought it could never happen to a kid like her.
"If you're worried about putting your foot in your mouth, wear really big shoes."
She grew up as a bold-faced liar, and couldn't stop. Her first lie at 8 years old was that aliens landed in her yard. The adults didn't stop her. They asked, Then what happened?
Her grandmother told stories, as did her aunt and her mother, and Esther Grigsby, the woman in her 80s who lived next door, and her father, who told her Al Capone was his great-uncle.
She loved books, beginning with Richard Scarry and Frederick and continuing to stories of Meg Murray and other science fiction, all told by cuentistas.
If all the cuentistas are going to hell for lying, we can sit around a fire pit and tell stories.
Her book is about love of family, dangers of conformity, and the power of story.
The elephant in the room is that erasure of stories is what she fears most.
Stories and memories are what she'd take from earth if she had to leave.
Erasure and banning stories is a pattern that repeats, and it's based in fear.
We have to say out loud the parts that hurt the most.
It does take courage to put stories in the hands of children.
Grace Lin, Children's Literature Legacy Award Winner
Let's suck up each other's book love!
She had a bad case of imposter syndrome winning this award. Imposter syndrome is like bugs that swarm late at night and are impossible to get rid of.
It's hard when your life's work is disparaged. "When are you going to write a real book?"
These bugs leave eggs.
The danger of diminishment is we start to believe it. If our work is not important, we are not important.
We are working to create a better humanity. We are showing what our culture wants to pass down. What we create is important.
Asian Americans have paid a deep price for otherness. Her books show how human we all are. None of us need to prove we are good enough to exist.
"No matter what, we're going to keep working hard to do good things."
We're replacing outdated books with books that reflect our world today.
You are the essential workers of the spirit.
The worse bugs are those ideas. Put the ideas in the light for all the world to see.
We have changed the landscape of this world.
If others see us only as bugs, let's show them we are fireflies! Humanity can also be beautiful.
[During the speech, Grace gave us drawing breaks, giving us step-by-step instructions. At the end of the talk, it turned out that we had all drawn fireflies!]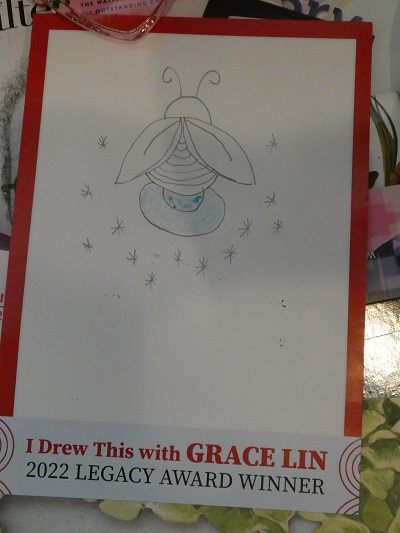 It was all a wonderful evening!