Tonight I'm going to post my third and final batch of 2022 Sonderbooks Stand-outs — with Children's Fiction and Nonfiction and Picture Books.
Sonderbooks Stand-outs are my personal favorite books from those I read this year. I'm not judging by literary merit, but simply by fondness. How much did these books warm my heart?
The ranking is very subjective, and I make multiple categories when it's hard to decide. I split Children's Fiction into Speculative Fiction and everything else, and I split Picture Books into Silly Fun and everything else. It seems like an awful lot of books, but I read even more.
All of these books are highly recommended and much loved:
Children's Speculative Fiction
Little Monarchs, by Jonathan Case
The Ogress and the Orphans, by Kelly Barnhill
Garlic and the Vampire, by Bree Paulsen
The Last Mapmaker, by Christina Soontornvat
Amari and the Night Brothers, by B. B. Alston
More Children's Fiction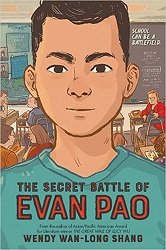 The Secret Battle of Evan Pao, by Wendy Wan-Long Shang
Merci Suárez Plays It Cool, by Meg Medina
The Boys in the Back Row, by Mike Jung
Those Kids from Fawn Creek, by Erin Entrada Kelly
Different Kinds of Fruit, by Kyle Lukoff
Answers in the Pages, by David Levithan
Attack of the Black Rectangles, by Amy Sarig King
Stuntboy #1: In the Meantime, by Jason Reynolds and Raúl the Third
Premeditated Myrtle, by Elizabeth C. Bunce
Children's Nonfiction
Silly Fun Picture Books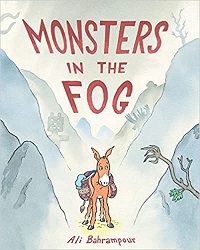 Monsters in the Fog, by Ali Bahrampour
A Spoonful of Frogs, by Vera Brosgol
This Book Is Not For You!, by Shannon Hale, illustrated by Tracy Subisak
How to Be Cooler Than Cool, by Sean Taylor, illustrated by Jean Jullien
The Three Billy Goats Gruff, by Mac Barnett, illustrated by Jon Klassen
Zero Zebras, by Bruce Goldstone, illustrated by Julien Chang
The Legend of Iron Purl, by Tao Nyeu
How to Be on the Moon, by Viviane Schwarz
Too Many Pigs and One Big Bad Wolf, by Davide Cali, illustrated by Marianna Balducci
Here We Come!, by Janna Matthies, illustrated by Christine Davenier
More Picture Books
Berry Song, by Michaela Goade
Like, by Annie Barrows, illustrated by Leo Espinosa
A Seed Grows, by Antoinette Portis
I'll Go and Come Back, by Rajani LaRocca, illustrated by Sara Palacios
Gibberish, by Young Vo
I'll post all the missing reviews as soon as I can. I hope you get a chance to try some of these books!
And here's my permanent webpage for all my 2022 Sonderbooks Stand-outs!
Happy Reading!