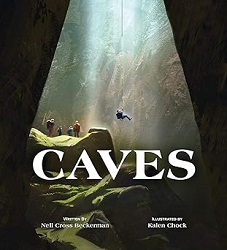 Caves
by Nell Cross Beckerman
illustrated by Kalen Chock
Orchard Books, 2022. 40 pages.
Review written March 9, 2023, from a library book.
Starred Review
This nonfiction picture book is a simple introduction to caves for kids.
It talks about different kinds of caves and what it's like to explore them. (Don't go alone!) And it looks at some notable caves around the world. The main text is simple, poetic, and evocative. Then there's more detail in smaller print about particular caves that are mentioned.
What makes this book extra striking are the stunning paintings in this extra-large picture book. Paintings like the underwater cave in Florida or the caves lit by glowworms in New Zealand pull you in and make you feel like you're experiencing the caves. I was amazed that this is the illustrator's picture book debut. I hope we see much more of his work!
This book has lots of facts about caves, but is sure to leave kids extra curious about them. The notes at the end give ideas for getting involved in local spelunking groups.
NellCrossBeckerman.com
scholastic.com
Find this review on Sonderbooks at: www.sonderbooks.com/Childrens_Nonfiction/caves.html
Disclosure: I am an Amazon Affiliate, and will earn a small percentage if you order a book on Amazon after clicking through from my site.
Disclaimer: I am a professional librarian, but the views expressed are solely my own, and in no way represent the official views of my employer or of any committee or group of which I am part.
What did you think of this book?