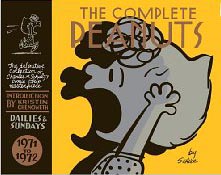 The Complete Peanuts
The Definitive Collection of Charles M. Schulz's Comic Strip Masterpiece
Dailies and Sundays
1971 to 1972
by Charles M. Schulz
introduction by Kristin Chenoweth
Fantagraphics Books, 2009. 320 pages.
I probably don't really need to review these books as they come out twice a year, but I just love them and have to mention them. Fantagraphics Books is collecting every single Peanuts strip, and it's delightful to watch the genius of Charles Schulz unfold as he developed the characters.
In this volume, Peppermint Patty's clearly in love with Charlie Brown, but he's obliviously still obsessed with the little red-haired girl. In fact, he goes to a carnival with Peppermint Patty and learns, as he tells Snoopy, "When you're with a girl, it's impossible to go through an entire evening without saying the wrong thing."
In these strips, Lucy actually kicks Linus out of the house, but gives up when she gets a new baby brother, whom they nickname "Rerun." Lucy continues her unrequited love for Schroeder and holding the football for Charlie Brown. She actually hits a home run when Schroeder promises a kiss if she does, but nobly turns it down in the name of women's lib.
Featured on the cover, these strips have a lot about Sally and her hilarious, not-quite-right approach to schoolwork. Did you know that ten grams make a grampa?
Probably my favorite part is learning how much further Snoopy's writing activities extended than just the "It was a dark and stormy night" novel. He undertakes a dramatic biography of Helen Sweetstory, author of the "Bunny-wunny" books. He tries magazine articles. He deals with writer's block. He has much drama with his secretary, Woodstock. I especially like his two tries at a new novel titled, "Toodle-oo, Caribou! A Tale of the Frozen North."
This Definitive Collection definitely makes delightful reading.
Find this review on Sonderbooks at: www.sonderbooks.com/Nonfiction/complete_peanuts_7172.html