Today I attended the National Book Festival in Washington, DC, and had an awesome time!
I learned a bit from last year's trip, which was something of a fiasco. I didn't waste a lot of time standing in long lines for autographs, but focused on the one author whom I really really wanted to talk to and get books signed by — Shannon Hale. And then I spent most of my time enjoying the author presentations — which turned out to be FABULOUS!
Next year, I'll add a step of ordering any books I want signed ahead of time. Both years, on impulse I've bought lots of books at the Festival, have waited in a huge crowd to purchase them, and then end up not waiting in enough lines to get them signed. I did buy books by a couple authors I didn't even see, but at least they are good books I'd been meaning to read anyway.
I saw three different fellow employees from Fairfax County Public Library who were also lucky enough to have the day off. In fact, I cheated a little bit and stepped into the book sales line to join Gena, the Woodrow Wilson Library Children's Assistant. (She was almost at the back of the line anyway.) We talked and talked the whole time we were waiting to pay for our books, which made that a fun part of the Festival, too.
Shannon Hale is one of my favorite living authors, along with Robin McKinley, whom she acknowledges as her inspiration. Back in 2004, I named The Goose Girl the best book I read in 2003, the #1 Sonderbooks Stand-out 2003. I e-mailed Shannon about it, and she answered, and we corresponded for awhile.
When I told Shannon who I was when I was getting my books signed, she gave me a hug! And asked how I am doing and if I'd finished my MLS. Such a nice person besides being such a wonderful writer!
Besides that, her fabulous and funny talk was about her path to becoming a published author. She brought in a laminated roll of past rejection slips, which she has also posted on her blog recently. Somehow to know that such an exceptional writer was rejected for reasons that seem ridiculous to me — well, it gives me hope for my own writing.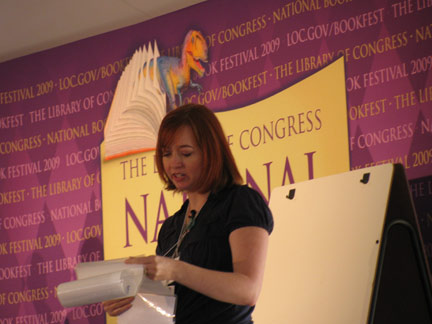 She talked about a principle she learned in a pottery class about throwing away your first 100 tries. I'm so very glad she persisted, found an editor who loved her work, and now has so many avid fans. I do love telling library patrons about her books, and I know of many, many other people who love her writing.
So — the Shannon Hale part of my day was a tremendous success! Inspiring and thrilling! I felt so honored that she remembered me! Some day, some day, some day, I hope to be at an event as a fellow author — but that won't happen unless I am as persistent as she was — both in submitting and especially in working on my craft.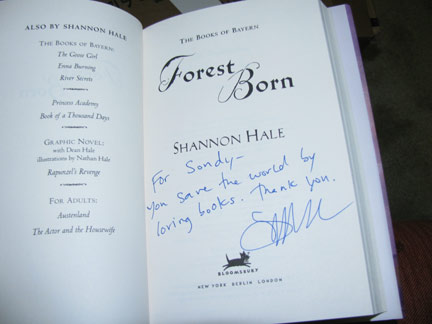 Here's what she wrote in my book!
After that, I spent the afternoon in the Children's tent. I had hoped to get Mo Willems' autograph, but his line was just way too long (at least if I wanted to make it to Shannon's talk). And I did forgo trying to get Kate DiCamillo's autograph in order to get to Mo Willems' talk. Then, since I was a fan of all the authors left on the program, I just stayed in that tent the rest of the afternoon. They were incredible! Tremendously entertaining and interesting and inspiring, every single one.
I should mention that in the morning, I got in on the first segment of The Exquisite Corpse Adventure, which should now be posted on read.gov. This is a tale put together by several different authors — and Jon Scieszka started it off with all kinds of challenges of things that would be in it — like a rollerskating baby, real ninjas and fake vampires, a talking pig, and of course a ticking clock. Watching the authors present teasers was great fun.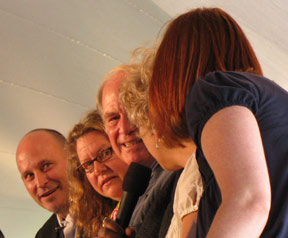 First were Tony DiTerlizzi and Holly Black, talking about the upcoming last volume of The Spiderwick Chronicles. I didn't have great seats for their talk or Mo's, but at least I had a seat. They talked about how they got ideas — cool stuff about bestiaries and folklore. Tony did some drawings, which unfortunately I couldn't see.
Then was Mo Willems, whom I consider an absolute genius. He did nothing to alter that impression. He read Naked Mole Rat Gets Dressed, Today I Will Fly (with other helpers), and his new Elephant and Piggie book, Pigs Make Me Sneeze.
I also bought the new book, and when I read it to my teenage son, he pointed out that it teaches that correlation does not imply causation. So right! Almost makes me wish I still taught Statistics so that I could bring that book in to read to the class. Incidentally, my son wishes that Mo would write a book about Doctor Cat, a new character introduced in Pigs Make Me Sneeze.
When it was time for questions, I loved how Mo answered the one about where he gets his inspiration: He's lucky enough to get it in the mail every month. In the form of a mortgage bill! He said that writers get inspired when they need to get inspired. That's their job.
Another child asked why the pigeon appears in all his books. He said the pigeon is stinker and gets jealous when Mo writes a book that isn't about him. So when he writes another book, the pigeon sneaks into the drawings when Mo is sleeping.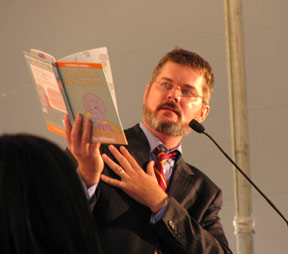 After Mo spoke, lots of better seats became available! So I settled in for the rest of the programs. Steven Kellogg was the illustrator of one of my oldest son's favorite picture books, The Day Jimmy's Boa Ate the Wash. His smile was so genuine and warm, and he was a dynamo in his talk, illustrating the stories he told while telling them with enthusiasm and expression. It was delightful to watch.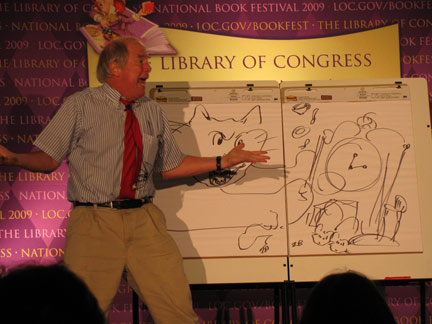 Then came Jerry Pinkney, talking about his new book, The Lion and the Mouse. I recently "read" this book at a storytime. It is a wordless book with sound effects, but even without me reading a story, the children were mesmerized by the glorious pictures, and it was fun getting them to tell me what was going on.
In his talk, Jerry told about the things in his life and in his childhood that inspired him to become an artist and gave him a love for animals. This talk was maybe not as entertaining, but it was enthralling and inspiring.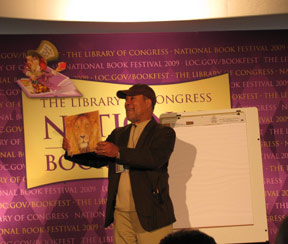 Finally, the last show was the two-man comedy act of Jon Scieszka and David Shannon, who have written a book together called Robot Zot. I definitely need to get my hands on a copy of that book!
I can't adequately express what it's like to listen to those two men interact with an audience together. Did I say men? Perhaps they'd be better described as mature little boys. Not in a bad way, at all. Hmm. Recently I've been listening to a CD about accessing your inner archetype of the Playful Child. Let's just say that these two have got that down pat. Two Playful Children entertaining a roomful of people.
They talked about the collaboration process (and how the illustrator doesn't listen to the author!) and read their new book, and then David Shannon drew a robot villain inspired by audience suggestions. But along the way, lots and lots of fun was had by all.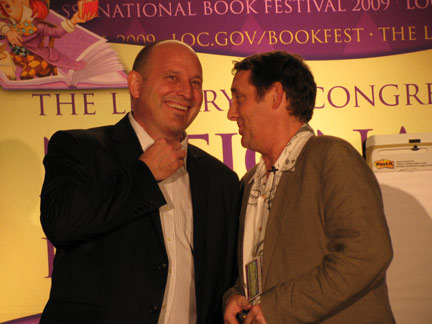 Truly a thoroughly wonderful day!