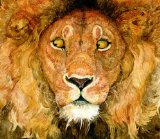 The Lion and the Mouse
by Jerry Pinkney
Little, Brown and Company Books for Young Readers, New York, 2009. 36 pages.
Starred Review
2010 Caldecott Medal Winner
Sonderbooks Stand-out 2010: #6 Picture Books
This stunning picture book is my pick for the 2010 Caldecott Medal. The amazingly detailed paintings tell the story of the well-known fable without words, the only text being animal sounds as part of the pictures.
Without words, I was surprised at what a success this book was at Storytime. The big, beautiful pictures captured the children's attention, and there was lots for them to talk about on each page. The expressions on the faces of the characters show emotion beautifully. There's lots of variety in the format, from close-ups to wide angle shots. It would take many readings before you had noticed all the detail in the backgrounds.
I got to hear Jerry Pinkney talk about writing this book at the National Book Festival. He clearly loves animals, and that comes across in this magnificent book.
Find this review on Sonderbooks at: www.sonderbooks.com/Picture_Books/lion_and_the_mouse.html
Disclosure: I am an Amazon Affiliate, and will earn a small percentage if you order a book on Amazon after clicking through from my site.