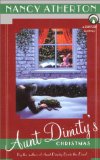 Aunt Dimity's Christmas
by Nancy Atherton
Viking, 1999, 214 pages.
I read one more Christmas mystery for the holidays, and found it charming and uplifting.
Lori Willis is getting ready to celebrate a lavish Christmas now that she has inherited a cottage in England. Aunt Dimity, who left her the cottage, never actually left, and still communicates with Lori by writing in a journal, and helps her solve mysteries.
Their Christmas mystery hits when a tramp collapses in the snowy lane outside their house. He's alive, but in a coma in the hospital. Who is he, and why was he going to their house? Perhaps he knew Aunt Dimity?
When Lori visits the stranger in the hospital, she's haunted by his face. Then she hears more and more stories of good things he has done. But some other things were very eccentric? Is he perhaps a mental patient? Or an angel in disguise?
Between these investigations, her husband going to a funeral in Boston, and her father-in-law playing Joseph in the Christmas pageant, Lori's Christmas turns out nothing like she planned, but truly memorable still.
A pleasant story with interesting characters that will put you in the mood for Christmas.
Find this review on Sonderbooks at: www.sonderbooks.com/Fiction/aunt_dimitys_christmas.html
Disclosure: I am an Amazon Affiliate, and will earn a small percentage if you order a book on Amazon after clicking through from my site.