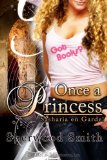 Once a Princess
Sasharia en Garde! Book One
by Sherwood Smith
Samhain Publishing, 2009. 278 pages.
Starred Review
Sonderbooks Stand-out 2010: #7 Fantasy Teen Fiction
I read this wonderful swashbuckling tale on the flight to Los Angeles for Christmas, and was very upset with myself that I hadn't brought along Book Two. (Though that's the first book I've read in the New Year.)
The book begins in a January Los Angeles heat wave, but doesn't stay there long. Sasha was born in another world, and now people from that world are looking for her.
Long ago, her father, a prince of Khanerenth, had come to our world and romanced Sasha's mother. He married her and brought her back to his world, but when King Canardan took over the throne, things got dangerous for their family. Sasha and her mother got sent back to our world for their own protection, and now Sasha is an adult, still not knowing if her father is alive or dead.
When a young man disguised as a lawyer tricks her and transports her back to Khanerenth, they run right into a group of King Canardan's guards. Fortunately, a mysterious pirate helps them fight their way out, and Sasha herself has been trained all her life for fighting.
As they continue, everyone has their own agenda, and Sasha is the only one with the spell that can release her father — if he's still alive. Meanwhile, her mother, Princess Ataniel in Khanerenth, comes after Sasha but gets entangled with the king.
The evil war commander knows she is there and wants to find her to kill her father. Who can Sasha trust? The mages who forced her through the Worldgate? The handsome pirate who won't even reveal his real name? And what about the useless prince, more interested in clothes and women than running a kingdom?
This tale is full of action and adventure, intrigue and romance. The story really isn't complete with the first book, though, and you will definitely want to read the satisfying conclusion, Twice a Prince, as soon as possible.
Find this review on Sonderbooks at: www.sonderbooks.com/Teens/once_a_princess.html
Disclosure: I am an Amazon Affiliate, and will earn a small percentage if you order a book on Amazon after clicking through from my site.