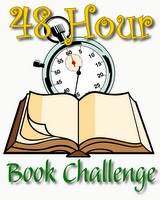 There! I've just spent the last 48 hours trying to focus on reading, writing and reviewing, in a 48-hour Book Challenge.
I did not get as much done as I would have liked to. That never happens. But I did have a completely lovely time. And I did get more accomplished than I would have if I had just treated it as an ordinary two days off.
For time, I managed to spend 27 hours and 15 minutes reading, writing, and reviewing.
That was broken down this way:
12 hours, 55 minutes reading
5 hours, 35 minutes writing reviews
4 hours, 35 minutes blogging about ALA Annual conference
2 hours, 15 minutes posting reviews
1 hour, 30 minutes emailing (I decided to count that as writing to keep from feeling isolated.)
And 25 minutes housekeeping (making my spreadsheet) and organizing book piles.
Here's what I accomplished:
I completely read four books, finished two more that I'd already begun, and read parts of five other books, for a total of 1,313 pages read.
I wrote reviews of eleven books, completely catching up on reviews I wanted to write. (This was a goal that I did accomplish. I didn't want to get further behind on writing reviews.)
I posted only two reviews and two Sonderquotes posts. (Had hoped to do more.)
I posted two blog posts about the Challenge itself (counting this one) and two blog posts about ALA Annual Conference. (Had hoped to at least finish ALA Annual Conference.)
All that adds up to 8,311 words written.
But best of all, I had a whole lot of fun. And I convinced myself that as I begin a new phase of life — post-Newbery and attending a new church — I do want to put a focus on reading, writing and reviewing.
And that is where my joy lies.
Now I've got two days left of my 4-day weekend to try to do my normal weekend things — which hopefully include a little reading, writing, and reviewing!