My yarn arrived tonight! 26 shades of Plymouth Encore yarn (on sale at yarn.com), so I can make a Prime Factorization Scarf that goes all the way up to 100!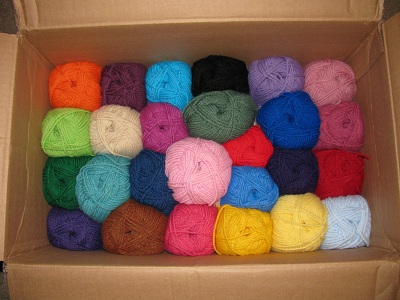 Now, a lot of the shades ended up looking more alike than I hoped they would. But I can always hold those toward the end where they only turn up once. I also didn't realize what large skeins I was getting — I will need to make a sweater after this, because I'm going to have all kinds of leftover yarn. But I can change the color scheme to keep it interesting.
My mission first: Decide which colors will be most dominant. I'm planning on black for 1 this time, but I'm going to swatch out some different combinations for 2, 3, 5, and 7, to decide how I like it. I was planning on red for 2, but it's so bright — I might not want that much red in the scarf. And I really like the turquoise blue that came. So we shall see… I'll make some small swatches before I try the actual scarf.
If anyone wants to play along and make a scarf with me, let me know! It might be a lot smarter to make this as a leftover-yarn project and use up old yarn, instead of buying all the same yarn. I wish I'd thought of that! Anyway, I will think in terms of using the yarn for a cardigan later. For now, I'm looking forward to playing with some swatches!
My posts on Mathematical Knitting and related topics are now gathered at Sonderknitting.