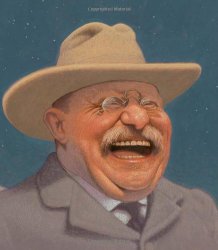 To Dare Mighty Things
The Life of Theodore Roosevelt
by Doreen Rappaport
illustrated by C. F. Payne
Disney Hyperion Books, New York, 2013. 44 pages.
Starred Review
This book does exactly what a picture book biography should do. It gives the reader a fantastic introduction to the life of a great man. There are big, beautiful pictures, showing active scenes. The text covers the highlights of his life, beginning with his curious childhood. I especially like the quotations featured on each page, in large bold print.
Here's text from a two-page spread about his childhood. The quotations are much larger than the rest of the text.
Teedie stuffed hedgehogs into drawers.
Sometimes they escaped.
Guests were warned to check water pitchers for snakes before pouring.

"He has to be watched all the time," his mother told his father.

He illustrated and wrote books about ants, spiders, ladybugs, fireflies, hawks, minnows, and crayfish.
His fingers were always stained with ink.
He collected animal and bird specimens and created a museum in his room.
He smelled. The whole house smelled.

"All growing boys tend to be grubby; but the ornithological boy is the grubbiest of all."
Of course, with the cover image simply the head of Theodore Roosevelt, I'd love to see people pose with the book in front of their face.
This is an accessible book for young children, giving them an overview of Theodore Roosevelt's life and work in a beautiful package that will catch anyone's interest.
doreenrappaport.com
cfpayne.com
disneyhyperionbooks.com
Find this review on Sonderbooks at: www.sonderbooks.com/Childrens_Nonfiction/to_dare_mighty_things.html
Disclosure: I am an Amazon Affiliate, and will earn a small percentage if you order a book on Amazon after clicking through from my site.
Source: This review is based on a library book from Fairfax County Public Library.
Disclaimer: I am a professional librarian, but I maintain my website and blogs on my own time. The views expressed are solely my own, and in no way represent the official views of my employer or of any committee or group of which I am part.