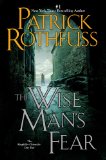 The Wise Man's Fear
The Kingkiller Chronicles: Day Two
by Patrick Rothfuss
DAW Books, New York, 2011. 994 pages.
Starred Review
2011 Sonderbooks Stand-out: #6 Fantasy Fiction
I already talked about what motivated me to read The Kingkiller Chronicle. This is not a book that stands alone. This is the second part of one story, or rather one epic saga. You should definitely read The Name of the Wind first. And those who read The Name of the Wind will be compelled to read this next book just as soon as they are able.
The annoying part? The story is by no means finished. Not only does this book not stand alone, it doesn't even break at a very natural place. The frame is that Kvothe is telling his story to the Chronicler over a period of three days, and this is what he told on the second day. I'm a little skeptical that a story of almost a thousand pages could really be spoken aloud in one day's time, but I wouldn't want it to be any shorter. Anyway, like any good storyteller, Kvothe breaks at a place that leaves you wanting more.
But the writing and language are still outstanding. The story is still gripping. We cover a few more of the things Kvothe foreshadowed when he introduced himself. In this book, he has more adventures at the University, but then needs to go out to get some money. Along the way, he learns about sex and about making war. Everything he does, he does well.
I admit, I felt pretty cynical about his adventure with Felurian, one of the Fae who drives men mad with her sexuality. However, Patrick Rothfuss is masterful in keeping that part mythical and wondrous. He doesn't give graphic descriptions, but instead imaginative names (like "Birdsong at morning") for the things Felurian teaches Kvothe.
And all the adventures along the way are momentous.
Right now, I'm a little disgruntled from having to wait for the third book. But unless Patrick Rothfuss suddenly gets much worse, this trilogy will be right up there with Tolkien's Lord of the Rings. If you like fantasy at all, I highly recommend this trilogy. Of course, the one catch to reading it now is that the third book hasn't been written yet. However, this will give you the delightful excuse to read the first two books again when the third one comes out.
Find this review on Sonderbooks at: www.sonderbooks.com/Fiction/wise_mans_fear.html
Disclosure: I am an Amazon Affiliate, and will earn a small percentage if you order a book on Amazon after clicking through from my site.
Source: This review is based on a book I purchased from a Barnes & Noble bookstore.