I try to restrain myself at ALA! Really I do!
But it's been more than a year since I went to an ALA conference. My self-control is ebbing.
The first night, I picked up 37 books:
The second day, with a trip back to the hotel in the middle to drop off books — I got 42.2 books. I'm calling a Naomi Novik booklet with the beginning of her new book a tenth of a book, and same for a CD sampler from Guys Listen! with excerpts from various audiobooks.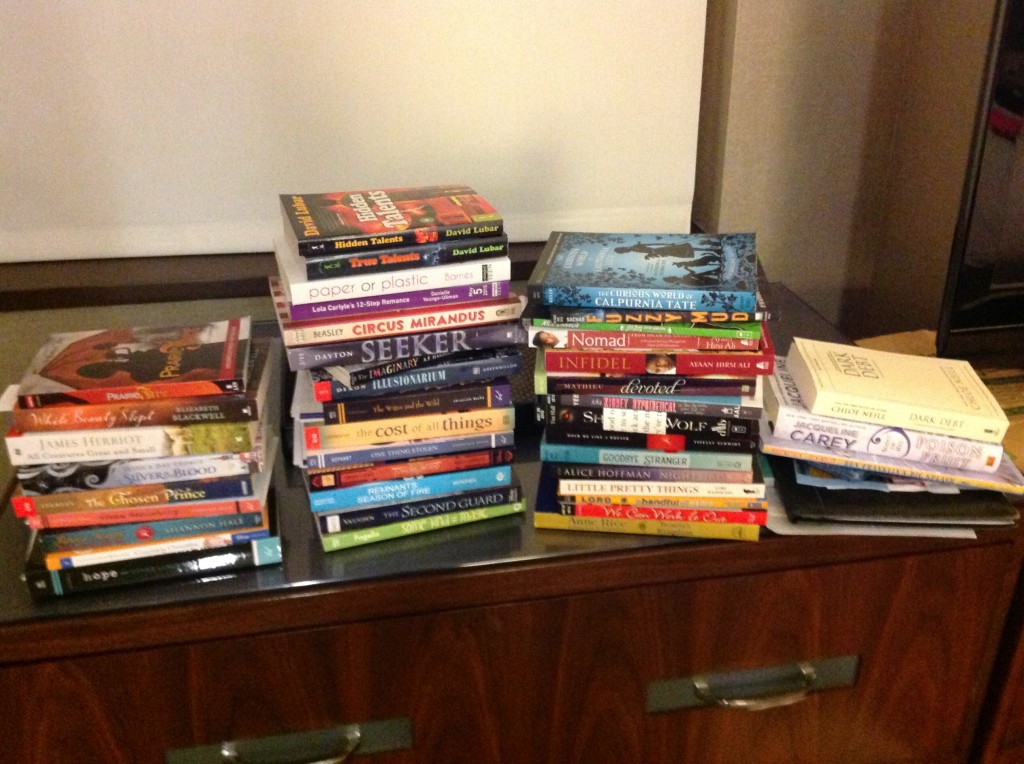 This includes several signed books. Let's see:
From the graphic novels panel, I got an ARC of Out from Boneville, Tribute Edition, signed by Jeff Smith
Nina in That Makes Me Mad!, a Toon Book by Hilary Knight, signed by Francoise Mouly, editor of Toon Books
A copy of The Shadow Hero signed by Gene Luen Yang
Then from the exhibits yesterday:
The Terrible Two, signed by Mac Barnett and Jory John
Channing O'Banning and the Turquoise Trail, signed by Angela Spady (who was very excited that my son goes to William & Mary, as does her daughter)
Today I got While Beauty Slept, signed by Elizabeth Blackwell, a book I've been meaning to read for some time.
Poison Fruit, signed by Jacqueline Carey
An ARC of Dark Debt, signed by Chloe Neill
Ben Franklin's Big Splash, signed by Barb Rosenstock
And the only books I paid for ($6 each): Infidel and Nomad, signed by Ayaan Hirsi Ali.
Some other books I'm very excited about include:
The third Princess Academy book by Shannon Hale
The sequel to Seraphina by Rachel Hartman
A new book by Jessica Day George
A new Clementine book by Sara Pennypacker
Two books by Clare Dunkle (one with her daughter), which I had already preordered
The Chosen Prince, by Diane Stanley
Nightbird, by Alice Hoffman
A Dangerous Place, by Jacqueline Winspear
And much, much more!
And there's still a day and a half to go! (Though I also have to figure out a time to ship the books.)