It's time for Sonderling Sunday! That time of the week when I play with language by looking at the German translation of children's books, sort of a Very Silly Phrasebook for Travelers.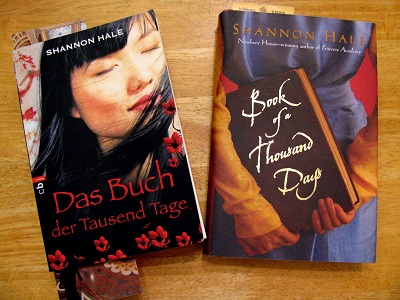 This week I'm back to one of my favorite books in English, Book of a Thousand Days, by Shannon Hale — Das Buch der Tausend Tage.
Last time, I left off ready to start Day 35.
I'll start with a nice pleasant sentence from Tag 35:
"I hope he has a safe journey."
= Hoffentlich kommt er sicher voran.
("Hopefully comes he safely ahead.")
And this is good to know, from Day 39:
"I'm in love!" = Ich bin verliebt!
Oooh, I like these sentences too much not to include them, even though the translation isn't complicated:
"My heart's so light it floats and carries me so my feet don't walk."
= Mein Herz ist so leicht, dass es in der Luft schwebt und mich trägt, sodass meine Füße nicht laufen müssen.
"I sing all day and I don't mind the washing, and that's how I know I'm in love."
= Ich singe den ganzen Tag und die Wäsche macht mir nichts aus. Daran erkenne ich, dass ich verliebt bin.
Now I have to finish the paragraph!
"Completely smitten with My Lord the cat."
= Hin und weg von Mylord, dem Kater.
(Bwahaha! Google Translate gives a very funny translation for this:
"Toward and away from my Lord, the hangover.")
"sleek and gray" = schlank und grau
"prettier than a morning sky" = hübscher als der Morgenhimmel
"mangy" = räudig
I love Shannon Hale's use of language, and it translates well here:
"they wheezed like startled snakes"
= sie schnauften wie afgeschreckte Schlangen
"petted" = gestreichelt
"never occurred to me before" = ist mir zuvor nie in den Kopf gekommen
("has to me before never in my head come.")
"rim of ice" = Eisschicht
"bucket" = Eimer
"funeral" = Begräbnis
"a lower tone" = eine tiefere Tonlage
"high harmony" = hohen Akkorden
"rolled up" = hüllte
"smothered" = erstickte
"my jaw was hammering" = pochte es in meinem Kiefer
("throbbed it in my jaw")
"reindeer" = Elchfell
"what I gave him in return" = was ich ihm im Gegenzug gab
"crumble into a heap of ash" = zu einem Häufchen Asche verbrenne
I'm going to stop there — just before a much longer section, Day 158. (I'm going to read it in English to myself, though, before I shut the book. It's a dramatic part!)
May you be so happy this week that you can say, Mein Herz ist so leicht, dass es in der Luft schwebt und mich trägt, sodass meine Füße nicht laufen müssen.
Meanwhile, ich singe den ganzen Tag.
Bis bald!