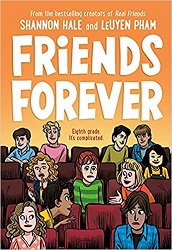 Friends Forever
by Shannon Hale
artwork by LeUyen Pham
color by Hilary Sycamore and LeUyen Pham
First Second, 2021. 300 pages.
Review written September 21, 2021, from a library book
Starred Review
Friends Forever is the third in Shannon Hale's graphic novel trilogy of memoirs about middle school. This one covers eighth grade.
The things Shannon faces in eighth grade aren't surprising: issues with friends, family, boys, her own looks, popularity, how people see her, and what is she good at. But since these are things most eighth graders have to deal with – it's great to have a story out there in an accessible graphic novel form of a kid facing those things.
I'm not sure I'd want to revisit the angst of eighth grade to write a book about it. Shannon Hale has done this in an encouraging and uplifting way, and kids today will benefit.
And don't think this is only a problem novel. It's also an entertaining true story about the ups and downs of middle school – but she doesn't neglect the upside. This is a fun and quick read about one particular eighth grade kid who indeed grew up to be a famous author.
shannonhale.com
leuyenpham.com
firstsecondbooks.com
Find this review on Sonderbooks at: www.sonderbooks.com/Childrens_Nonfiction/forever_friends.html
Disclosure: I am an Amazon Affiliate, and will earn a small percentage if you order a book on Amazon after clicking through from my site.
Disclaimer: I am a professional librarian, but the views expressed are solely my own, and in no way represent the official views of my employer or of any committee or group of which I am part.
What did you think of this book?