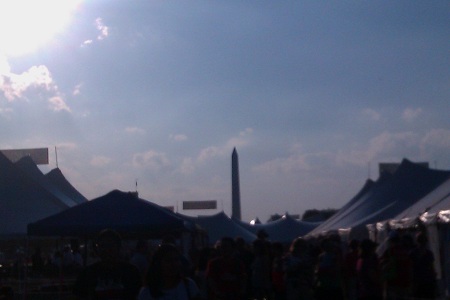 I've lived in Virginia for five years now, and I've been to the National Book Festival four times. The first two years weren't as good an experience as the next two, so I thought I'd share some tips.
1. Purchase books you want signed ahead of time!
I just ordered two copies of Okay for Now, by Gary Schmidt, one for me and one for a gift. This is what made me think of writing this post. This year, I have to work on the Saturday of the Festival (September 24), but this year they are extending the festival to two days, so I can attend on Sunday, which is when Gary Schmidt is speaking.
The reason for this tip? The tent where they sell books is a crowded, awful place. You will have a hard time looking at books and a long line to pay for them. They will be sold at full price. But if you are like me, you will see books you want and purchase them on a whim, only to discover that you can't make it to the long line when that author is getting books signed. Much better: If you really want to get a book signed, purchase it ahead of time and bring it to the festival.
Last year, I didn't get any books signed, and enjoyed the Festival tremendously, with more time to listen to authors. The year before, I got a book signed by Shannon Hale, and was unutterably thrilled when she knew who I was (from my website) as soon as I told her my name.
2. Plan your schedule.
The Library of Congress Festival website has the schedule of when each author will speak and when they will get books signed. Getting books signed will require waiting in line, probably starting before the scheduled time. If you just stroll around the festival, looking for what's interesting, you'll have trouble getting into a tent and you'll miss out. And might get rained on.
3. Plan to get a good seat in a tent — and stay there!
Most years that I've gone to the National Book Festival, it's been raining. Last year, instead it was blazing hot. Either way, you'll be much much more comfortable in a tent. However, the tents do not have enough seats for everyone who wants to hear these incredible authors speak. So a couple years ago, when I very much wanted to hear Mo Willems speak, I planned to get in the tent to hear the speaker before him. Sure enough, you can usually find a seat up close when one speaker finishes, if you're right there to grab a seat from departing people.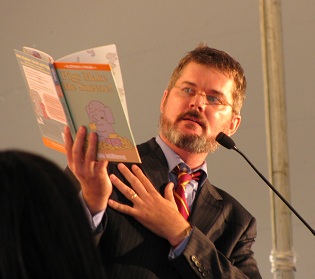 I discovered two years ago that if there are two speakers you want to hear who are speaking in the same tent, you will be treated to some fabulous speakers you might not have heard otherwise if you just STAY IN YOUR SEAT! Seats are gold — try not to leave once you snag one!
So those are my three big tips. I'll see if I get new ones this year, when I'm only going to the half-day events on Sunday. Here is my post about National Book Festival from '09, but it doesn't look like I posted any last year, probably because I didn't bring my camera and only took pictures on my phone. But I heard some great authors, just by sitting in a couple tents all day (in the blazing heat). I've got to share!
Here's Rebecca Stead, not long after winning her Newbery Medal for When You Reach Me:
And here's M. T. Anderson, talking about the Flame Pits of Delaware:
Anita Silvey, of the Children's Book a Day Almanac and the book, Everything I Need to Know I Learned from a Children's Book:
Katherine Paterson, our current distinguished Ambassador for Children's Books: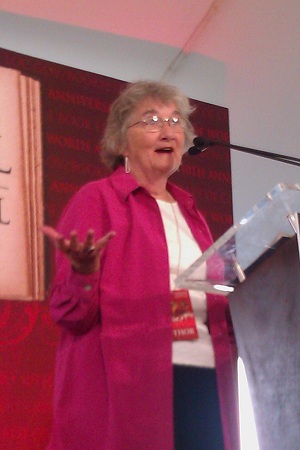 Here's Judith Viorst, the author of the classic Alexander and the Terrible, Horrible, No Good, Very Bad Day, reading the new utterly delightful book Lulu and the Brontosaurus. (Alexander himself was in the audience!)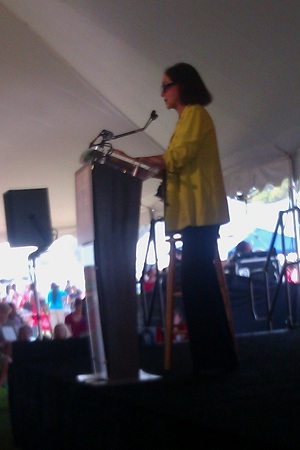 And finally, Jerry Pinkney, now a Caldecott Medalist. I'd discovered what a great speaker he is the year before, at the National Book Festival, and have now heard him speak three times, once receiving his well-deserved medal. I love it when he takes questions from the audience, because he does so well with the children who ask questions.
Oh, and one final tip! Last year, some local book bloggers got together and had dinner in DC after the Festival. That's a super way to finish it off. Anyone going to the Festival on Sunday? Leave a message in the comments or contact me on Twitter at @Sonderbooks! It's a great time to get together with other book lovers.