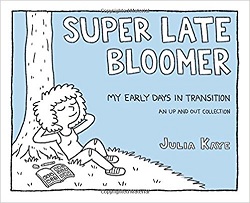 Super Late Bloomer
My Early Days in Transition
An Up and Out Collection
by Julia Kaye
Andrews McMeel Publishing, 2018. 160 pages.
Starred Review
This book is published for adults, though it will definitely have an audience with some teens, but it's not a children's book, so I think I'm okay to post the review during my Newbery reading year.
This is a memoir in comic format, taken from the Up and Out webcomic. Julia Kaye is a transgender woman who transitioned as an adult. This book tells the story of her transition.
I loved this book. My own daughter is transgender and transitioned as an adult – so I think it helped me understand what she's gone through and is going through.
The comic format, even using simple lines, is great for showing emotion and helping the reader feel what the author was going through. You can feel some of the pain of gender dysphoria and feel why misgendering causes ongoing pain and insecurity. The book communicates that even though there are ongoing causes of pain as someone transitions – that doesn't mean transitioning is all a mistake. It doesn't magically make all issues go away.
I'm hoping that transgender folks will enjoy this book to read about someone else having experiences similar to their own. And cisgender folks can enjoy it to get an inkling of the kind of bravery it takes for transgender people to present themselves to the world as who they truly are. As well as better understand and empathize with fellow human beings.
We may not all be transgender. But we all know what it's like to feel different, to feel like people are staring at you, or to be unhappy with the way we look and the way people respond to us. This book helps the reader understand what we have in common.
Instagram.com/upandoutcomic
andrewsmcmeel.com
Find this review on Sonderbooks at: www.sonderbooks.com/Nonfiction/super_late_bloomer.html
Disclosure: I am an Amazon Affiliate, and will earn a small percentage if you order a book on Amazon after clicking through from my site.
Source: This review is based on a library book from Fairfax County Public Library.
Disclaimer: I am a professional librarian, but I maintain my website and blogs on my own time. The views expressed are solely my own, and in no way represent the official views of my employer or of any committee or group of which I am part.
What did you think of this book?