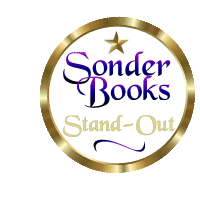 After posting my 2012 Sonderbooks Stand-outs, I couldn't help but notice that some names have come up again and again. So I'm doing a series of blog posts about those authors who have appeared on my Stand-outs lists before. And next up is Mo Willems, with a total of 8 Sonderbooks Stand-outs since 2003.

I discovered Mo with that wonderful classic, Don't Let the Pigeon Drive the Bus It of course was a 2003 Sonderbooks Stand-out, my top choice for Picture Books.
Unfortunately, my kids were too old to appreciate the full power of the pigeon books, but I remember in 2006 when I stayed for a month and a half with my friend, I got to pull them out and read them to her kids. They especially liked it when I read the temper tantrum page. Another Pigeon book, Don't Let the Pigeon Stay Up Late, made the 2006 Sonderbooks Stand-outs list, once again #1 for Picture Books.
In 2008, I met Elephant and Piggie, and fell in love. This time, Mo had not one but three 2008 Sonderbooks Stand-outs. Are You Ready to Play Outside? was #5 in Picture Books, The Pigeon Wants a Puppy! was #6, and I Will Surprise My Friend! was #7. And I still like the essay I wrote about Are You Ready to Play Outside? and contentment (and, well, my ex-husband).
My 2009 Sonderbooks Stand-outs featured another Elephant and Piggie book at #3 in Picture Books, Pigs Make Me Sneeze! How I wish I'd had it back in the day when I taught Intro to Statistics! A picture book lesson that Correlation does not imply Causation! Yes!
My 2010 Sonderbooks Stand-outs had something new, a book written, but not illustrated, by Mo Willems, City Dog, Country Frog, which was #4 in Picture Books.
And finally, this year the Pigeon was back! In my 2012 Sonderbooks Stand-outs, The Duckling Gets a Cookie!? delightfully played with the themes from all the previous Pigeon books and hit #2 in my Picture Books list.
Now, I may not have permanent MO graffiti on my blog like Mother Reader, but I'm definitely a huge fan. I think the man's a genius, and I've found that if I want kids to enjoy a storytime, all I have to do is include a Mo Willems book. May he continue to be prolific! I have a feeling he's going to feature on many lists to come.